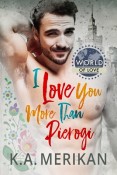 Rating: 4.25 stars
Buy Link: Amazon | iBooks | Amazon UK
Length: Novella
Adrian and Marek were closeted high school sweethearts growing up in a small town in the countryside of Poland. Adrian came out, and Marek was too ashamed/afraid to do the same. He cut off Adrian and didn't go on the backpacking world trip they'd planned and saved for. Instead, Marek moved to Warsaw and took a job in graphic design for a premier advertising agency.
Five years pass, and Adrian returns to Poland. He reaches out to his old friend to see if they can repair the damage caused in their teens. Marek, a workaholic who pretty much hates his company, allows Adrian to stay in his room—in an apartment he shares with two other people. Adrian isn't ready for Marek to make advances on him, however. They hardly know each other anymore, but he'd like to get to know Marek again, and…maybe more.
In the meantime, Adrian has an idea for work: he wants to open a food truck that specializes in traditional Polish fare. He got sentimental on his lonely global trek, and always longed for the simple, fresh, delicious food of his country roots. And, he seeks out Marek's firm—and Marek in particular—to do the art and advertising work. Marek's not only mortified about Adrian's concept, because the name is a pejorative urban Poles use for the rural workers who've come to the city, and, Marek's boss immediately pegs Adrian for being gay. The homophobia is rather rampant in the culture, and that's not different at Marek's firm; he's not out even to his roomies. But, watching out-and-proud Adrian navigate the same waters gives a good example to Marek.
I really liked Adrian, and I had a good deal of sympathy for Marek. The culture is not conducive to being out, and he's been so focused on making a good living that he's actually sacrificed his social life. There's brief mention that he actually sends money back to his family to help pay for his younger sisters' education, and I'd have liked a little more detail on that. Adrian and Marek have time to make a new start—they are young. I really admired Adrian's initiative and how he drew people to him, including Marek. The end is really something nice, with all the delicious angst and simmering sexual tension reaching a comfortable and well-deserved happy ending. It's a short read, but a full story, and I really felt transported to contemporary Warsaw, with all it's beautiful and ugly vistas. Adrian, a man who's been away so long has a whole different perspective from that of Marek, who's been a bit trod upon in the urban jungle. I liked how they reached an accord as friends, and later lovers. As this is a food book, I was seriously hungry by the end, though I was emotionally satisfied with the plot.
A review copy of this book was provided by Dreamspinner Press.