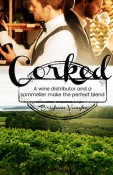 Rating: 3.5 stars
Buy Link: Amazon | iBooks | Amazon UK
Length: Novella
It's one of those days where everything is going wrong for wine distributor Sean Powell . He's looking to end the day on an upbeat note with a visit to his favorite sommelier. But, when he arrives at the bistro, Sean finds Lucas Spencer in the sommelier role instead of his long-time friend. While Lucas is younger and new to the bistro, he's determined to modernize the wine list, but he and Sean do not get off to a good start at all.
The men have to work together to revamp the wine list, but Sean thinks Lucas is too young for the job and Lucas just thinks Sean is rude. And, while the attraction between them is all kinds of intense and they can't manage to keep their hands off each other, they really don't like each other much. Yet, their attraction grows into a tentative relationship, but with Sean thinking he's too old for Lucas and Lucas feeling like he wants to move too fast, the men have to find a way to both love and work together.
Corked was originally published in installments as the Wine Tasting Series. It has been revised, expanded, and now all the parts are included in one book.
When Sean and Lucas meet, it does not go well. While Sean is coming off of a truly bad day, he takes his frustrations out on Lucas and is fairly rude to the guy. Lucas rises to the bait and it's not looking likely that the men will be able to work together, yet that doesn't mean they can keep their hands off of each other.
The book is slow and quiet and while I can't pinpoint something that I could say is wrong with it, it was not absorbing for me. I'm not sure if it was combining pieces that were originally written as installments into one book, but a lot of the story remained on the surface for me. They men start out not liking each other, but having chemistry, and I needed more of a bridge when they moved over to trying to start a relationship.
Sean is insecure with the eleven-year age difference between them and wonders what Lucas sees him in. Lucas doesn't think he can hold Sean's attention, but I only got a vague sense of them as the character development wasn't strong enough for me. I did enjoy the setting as the men travel to wineries, but while it may be informative if you are not familiar with wine, if you are, it then read as basic.
The book is mainly about Lucas and Sean coming to terms with having a relationship while being able to work together and getting their insecurities under control. While it didn't fully draw me in, it has a sweet and happy ending and it could work for a shorter read set among the wine scene.