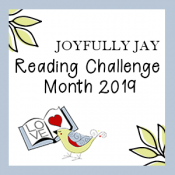 Hi everyone! Today I am SOOOO excited to announce that this September will be our Fifth Annual Reading Challenge Month! Can you believe that we are in our fifth year?! Like in past years, we will have four weeks of fabulous festivities with some great books and amazing prizes.
Ok, so here is the deal to refresh everyone on how it works. All month long we will be holding fun weekly reading challenges to give us a chance to try some new books that we may not normally pick up. Each week there will be a different challenge and our reviewing gang will be trying out books that fit the challenge themes. [check out what we are reading here]
And here its the best part… you all get to join in the fun! Each week is sponsored and there will be lots of prizes! There are two ways you can participate. Anyone who comments on any of our challenge reviews will be entered to win that week's prize. Plus, if you participate by reading along with your own challenge book any of the weeks and write a mini review, you get mega BONUS entries. That means lots of chances to win and a great opportunity to find some new books, authors, and genres to love! In addition to chances to win each week, we will have an amazing grand prize awarded at the end of the month! Everyone who earns entries during any of the weekly challenges will be also entered to win the amazing grand prize! [Check out our Prize Preview here]
This year our challenges were chosen in part from votes from readers in our FB group, The Joyful Jays. If you are not a member, be sure you stop on by there for more fun stuff!
Here is the line up for challenge month:
Week 1: New-to-Me Author Week – Try an author you have never read before!

Week 2: Diverse Books Week

 – Pick a book that features diverse characters. This can be racial, cultural, or religious diversity; diverse gender or sexual identities; and characters of differing physical abilities.
Week 3: Judge a Book By Its Cover Week – Choose a book because you love the cover

Week 4: Older or Younger Hero Week

 – Pick a book with a hero that is 21 or under OR 40 or over (it can be both, but it doesn't need to be)
So what happens now? Well, first off, next week I am hoping to have more details on the prizes just to get you extra excited. We already have some great sponsors lined up! And then the week after that, I will have a list of what we are planning to read during the month. So if you want to read along with our choices you can, or you can start choosing some of your own books that fit the challenge themes. I'll also share some lists and suggestions of places to look if you need book ideas. And remember, every time you participate by commenting or reading along, you get entries for prizes! So this should be a fabulous event! Keep your eyes open the next few Sundays as we share more details.
P.S. If you want to check out past Reading Challenge Months, you can find them all listed here