Today I am so pleased to welcome Jodi Payne and BA Tortuga to Joyfully Jay. Jodi and BA have come to share an exclusive cover reveal for their upcoming release, First Rodeo (Cowboy and the Dom, book 1).  The book releases on October 15th. Please join me in giving them a big welcome!
---
Blurb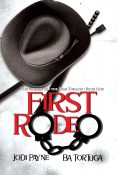 A tragic murder brings an inexperienced cowboy and an sophisticated lifestyle Dom into each other's lives. But transcending their differences to explore the fragile connection between them will be a huge hill to climb… the first of many.
When a killer strikes, Texan and former rodeo cowboy, Sam O'Reilly, loses his brother. Wealthy New York City Dom, Thomas Ward, loses his lover and sub. Sam comes to the city determined to stay until he can bring the murderer to his own brand of justice, while Thomas hopes for a legal solution. Neither man expects his reaction to the other. Having each lost something irreplaceable, their hearts are crying out for comfort almost as loud as their bodies are screaming for each other. They come from such different worlds that making a connection might not be possible under the best circumstances, let alone the worst they've experienced.
But some yearnings refuse to be ignored, and as Sam and Thomas take the first tentative steps on the rocky path that might lead to a relationship, the killer steps out of the shadows…
And this time, his sights are set on Sam.
Releases on October 15, 2019
---
Bio
About Jodi
Jodi takes herself way too seriously and has been known to randomly break out in song. Her men are imperfect but genuine, stubborn but likable, often kinky, and frequently their own worst enemies. They are characters you can't help but fall in love with while they stumble along the path to their happily ever after. For those looking to get on her good side, Jodi's addictions include nonfat lattes, Malbec and tequila any way you pour it.
Newsletter Signup: http://jodipayne.us15.list-manage.com/subscribe?u=023d4a9eaebe1dc9d4adf97db&id=7be1339e1c 
About BA
Texan to the bone and an unrepentant Daddy's Girl, BA Tortuga spends her days with her basset hounds, getting tattooed, texting her grandbabies, and eating Mexican food. When she's not doing that, she's writing. She spends her days off watching rodeo, knitting and surfing Pinterest in the name of research. BA's personal saviors include her wife, Julia Talbot, her best friends, and coffee. Lots of coffee. Really good coffee.
Having written everything from fist-fighting rednecks to hard-core cowboys to werewolves, BA does her damnedest to tell the stories of her heart, which was raised in Northeast Texas, but has heard the call of the high desert and lives in the Sandias. With books ranging from hard-hitting GLBT romance, to fiery ménages, to the most traditional of love stories, BA refuses to be pigeon-holed by anyone but the voices in her head.
BA loves to talk to her readers and can be found at http://batortuga.com/ and her newsletter signup link is http://bit.ly/BAJulianews