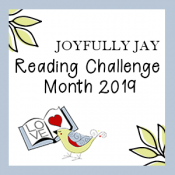 Hi everyone! Well we are officially one week away from the start of our Fifth Annual Reading Challenge Month! Woo hoo! Hopefully you guys have seen our lead up posts, but in just in case, let me catch you up. Reading Challenge Month starts in September and we will have four, week-long reading challenges. Each week, the folks at Joyfully Jay will be reading books that fit the weekly challenge. As readers, you guys can get involved two ways and not only have some fun, but win some fabulous prizes! First, you can earn a contest entry every time you leave a comment on a challenge review. You can also earn TEN additional entries each week by reading along with your own challenge book and writing a mini review at the end of the week. If you need more information, you can check out our Coming Soon post for overall information, and our Prize Preview for more specifics on the prizes.
So, today we are going to talk about what we are reading, and help provide some direction for those of you still choosing your own books to read. Just to be clear, you can read one of the books we are reading, or you can pick your own challenge book. Either is totally fine. We just encourage you to play along by taking on the challenges along with us. Every year I find some great books I may never have tried, so it can be a lot of fun (P.S. This is our reading list as of now, but it is possible things may change slightly)
Week 1: New-to-Me Author Week (read a book by an author you have never read)
The Arrangement by Alex Jane (Jay)
Something Human by A.J. Demas (Sammy)
Mason's Heart by Mellanie Rourke (Veronica)
Gearheart by Maia Strong (Sue)
Witcheskin by Nem Rowan (Kris)
The Art of Death by Bob Appavu (Elizabeth)
Death's Angel by Michael Mandrake (Jovan)
Deviate by Mia Monroe (Michelle)
In Case You Forgot by Frederick Smith and Chaz Lamar (Camille)
If you are looking for your own New-to-Me Author book, check out our monthly Favorite Books posts! You'll see the things we loved and maybe find a book you want to try! You can also look at our Favorites lists with some of our top picks in a variety of tropes, like rock stars, road trips, pirate stories, and more!
Week 2: Diverse Books Week (read a book featuring characters from diverse races, religions, cultures, physical abilities, gender/sexual identities, etc)
How to Be Remy Cameron by Julian Winters (Jovan)
Not Your Backup by C.B. Lee (Jay)
Golden Like Summer by Gene Gant (Sammy)
Hidden in Darkness by Alice Winters (Sue)
Would It Be Okay to Love You 3 by Amy Tasukada (Camille)
Puzzle Me This by Eli Eason (Jay)
Power Play by J.M. Snyder (Kris)
Birthday by Meredith Russo (Michelle)
Coffee by Matthew J. Metzger (Kenna)
In Safe Hands by Victoria Sue (Veronica)
If you are looking for diverse books, here are links to some of our reviews that may give you ideas: POC/interracial romance (we used to use the latter tag so we have reviews that use both), physical disability, transgender/trans (again, we used to use the latter tag), FF (lesbian), Muslim, Jewish, Pagan.
Week 3: Judge a Book By Its Cover (choose a book because you LIKE the cover)
The Wanderer by Dahlia Donovan (Sammy)
Creature Comfort by Rob Rosen (Veronica)
Hurricane by Laura Taylor (Sue)
Today by R.J. Scott (Kenna)
Blood and Bones by B.A. Stretke (Kris)
The Beach House by Angelique Jurd (Michelle)
Now You See Me by Lynn Van Dorn (Jay)
Musician and the Monster by Jenya Keefe (Elizabeth)
Masquerade by Joel Abernathy (Jovan)
Check out our Favorite Covers posts if you want some ideas for what to read this week!
Week 4: Older/Younger Hero Week (pick a book that features a hero under 21 OR over 40 — it doesn't have to be both)
Arctic Heat by Annabeth Albert (Jay)
The Killing Spell by Shane Ullerin (Kris)
The Freshman by Louse Collins (Sammy)
Honeymoon for One by Keira Andrews (Elizabeth)
Broken News by Sara Dobie Bauer (Michelle)
Boy Shattered by Eli Easton (Elizabeth)
Shipping the Captain by Nora Phoenix (Jay)
Cranberry Boys by Scudder James, Jr (Veronica)
The Secrets We Keep by Rick R. Reed (Jovan)
You can check out our reviews of books featuring older heroes (and yes, we know 40 isn't really old, lol) and younger heroes
Hope you find some great books to read and will join us in having fun this month! If you know what you are reading and want to share, feel free to let us know in the comments!